READOUT: Export-Import Bank of the United States President and Chair Reta Jo Lewis Discusses EXIM's Work to Strengthen Supply Chains at Milken Global Conference
FOR IMMEDIATE RELEASE
May 4, 2022
Media Contact Name/Phone
Office of Communications (202-730-6639/202-993-0409)
WASHINGTON – President and Chair of the Export-Import Bank of the United States (EXIM) Reta Jo Lewis yesterday spoke on a panel at the Milken Institute's 2022 Global Conference, "Rerouting Global Supply Chains: From Just in Time to Just in Case."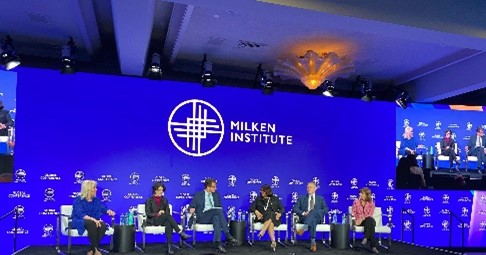 The session focused on the world's supply chains and the current era of globalization that has been defined by great technological advancements. Speaking alongside industry leaders, Chair Lewis discussed EXIM's Make More in America Initiative, the recently passed domestic financing tool the EXIM Board approved to strengthen America's supply chains and bolster American manufacturing and exporting in sectors critical to national and economic security.
Chair Lewis also discussed President Biden's whole-of-government approach to finding solutions to address global supply chain challenges and reaffirmed EXIM's commitment to supporting America's exporters and small businesses.
To watch the full panel discussion, click here.
ABOUT EXIM:
The Export-Import Bank of the United States (EXIM) is the nation's official export credit agency with the mission of supporting American jobs by facilitating U.S. exports. To advance American competitiveness and assist U.S. businesses as they compete for global sales, EXIM offers financing including export credit insurance, working capital guarantees, loan guarantees, and direct loans. As an independent federal agency, EXIM contributes to U.S. economic growth by supporting tens of thousands of jobs in exporting businesses and their supply chains across the United States. Since 1992, EXIM has generated more than $9 billion for the U.S. Treasury for repayment of U.S. debt. Learn more at www.exim.gov.