READOUT: Export-Import Bank of the United States First Vice President and Vice Chair Judith Pryor Meets with Georgian Vice Prime Minister and Minister of Economy and Sustainable Development
FOR IMMEDIATE RELEASE
May 10, 2022
Media Contact Name/Phone
Office of Communications (202-730-6639/202-993-0409)
WASHINGTON – Export-Import Bank of the United States (EXIM) First Vice President and Vice Chair of the EXIM Board of Directors, Judith Pryor and senior staff met today with Georgian Vice Prime Minister and Minister of Economy and Sustainable Development, Levan Davitashvili, and members of the Georgia delegation, including Ambassador-Designate David Zalkaliani. They discussed collaborating on key Biden-Harris Administration and EXIM priorities related to supporting exports.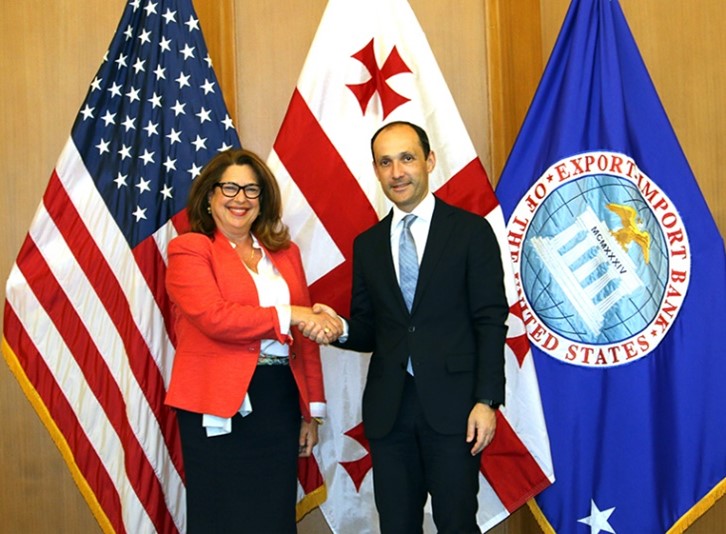 Vice Chair Pryor reiterated EXIM's pledge to work with the Georgian government to support their economic development and to ensure U.S. goods and services are part of commercial diplomatic efforts between the countries. The discussion included forging strategic partnerships in key areas to support transformational exports such as clean and renewable energy projects in hydro, wind and solar; the export of agricultural commodities and equipment like irrigation systems and farm equipment; and other partnerships to help America's small businesses, especially in key supply chain networks.
Vice Chair Pryor also discussed the necessity for Georgia to quicken their transition to clean and renewable sources of energy to help the country lessen its dependence on Russia for its energy supply.
ABOUT EXIM:
 
The Export-Import Bank of the United States (EXIM) is the nation's official export credit agency with the mission of supporting American jobs by facilitating U.S. exports. To advance American competitiveness and assist U.S. businesses as they compete for global sales, EXIM offers financing including export credit insurance, working capital guarantees, loan guarantees, and direct loans. As an independent federal agency, EXIM contributes to U.S. economic growth by supporting tens of thousands of jobs in exporting businesses and their supply chains across the United States. Since 1992, EXIM has generated more than $9 billion for the U.S. Treasury for repayment of U.S. debt. Learn more at www.exim.gov.