EXIM Chairman Kimberly Reed Joins U.S. Senators Kevin Cramer and John Hoeven and North Dakota Agriculture Commissioner Doug Goehring in Underscoring EXIM's Role in Supporting North Dakota Jobs During Trade Finance Town Hall
Visits EXIM Success Story WCCO Belting in Wahpteon, North Dakota
FOR IMMEDIATE RELEASE
October 15, 2020
Media Contact Name/Phone
Office of Communications (202) 565-3207
FARGO, N.D. - Export-Import Bank of the United States (EXIM) President and Chairman Kimberly A. Reed yesterday joined U.S. Senators Kevin Cramer and John Hoeven and North Dakota Agriculture Commissioner Doug Goehring for a Trade Finance Town Hall in Fargo, North Dakota, and visited WCCO Belting, a North Dakota small business and EXIM customer for nearly two decades.
During the town hall with more than 60 in-person and virtual attendees, Chairman Reed highlighted how EXIM can help North Dakota small businesses export their products around the world. She also discussed how EXIM support of key industries critical to North Dakota like agriculture, energy, and manufacturing can help the state's economy thrive.
The Trade Finance Town Hall participants included the following:
U.S. Senator Kevin Cramer
U.S. Senator John Hoeven
Commissioner Doug Goehring, North Dakota Department of Agriculture
Kirt Gallatin, Director of Policy, International Trade Administration
John Harju, Vice President for Strategic Partnerships, Energy and Environmental Research Center, University of North Dakota
Tom Shorma, President and CEO, WCCO Belting
Commissioner Goehring also served previously as an EXIM Sub-Saharan Africa Advisory Committee Member.
"I want to thank Senator Cramer-who was critical to EXIM's historic 2019 reauthorization-for inviting me to North Dakota to share how EXIM can help businesses thrive in the international marketplace," said Chairman Reed. "It was an honor to come together with Senator Cramer, Senator Hoeven, Commissioner Goehring, and a variety of small business, supply chain, finance institution, and other stakeholders for a very important discussion on how EXIM can support North Dakota jobs by facilitating great North Dakota exports to the global marketplace."
"The EXIM Bank is an important financing tool in the tool box to help small exporters stay competitive in the global marketplace," said Senator Cramer. "I am glad Chairman Reed accepted my invitation to come to North Dakota so she can see firsthand the impact the EXIM Bank has on our economy and speak with our businesses and lenders about new opportunities to grow."
During the town hall, Chairman Reed also discussed EXIM's historic seven-year reauthorization, which established EXIM's new Program on China and Transformational Exports and directs EXIM to provide financial products to directly neutralize export subsidies offered by the People's Republic of China, helping to ensure a level playing field for U.S. businesses and workers as they compete globally. The program has the aim of advancing the comparative leadership of the United States and supporting U.S. innovation, employment, and technological standards globally in ten transformational export industries including biotechnology. The law charges EXIM with a goal of reserving not less than 20 percent of the agency's totaling financing authority (i.e., $27 billion out of a total $135 billion) for support made pursuant to the program.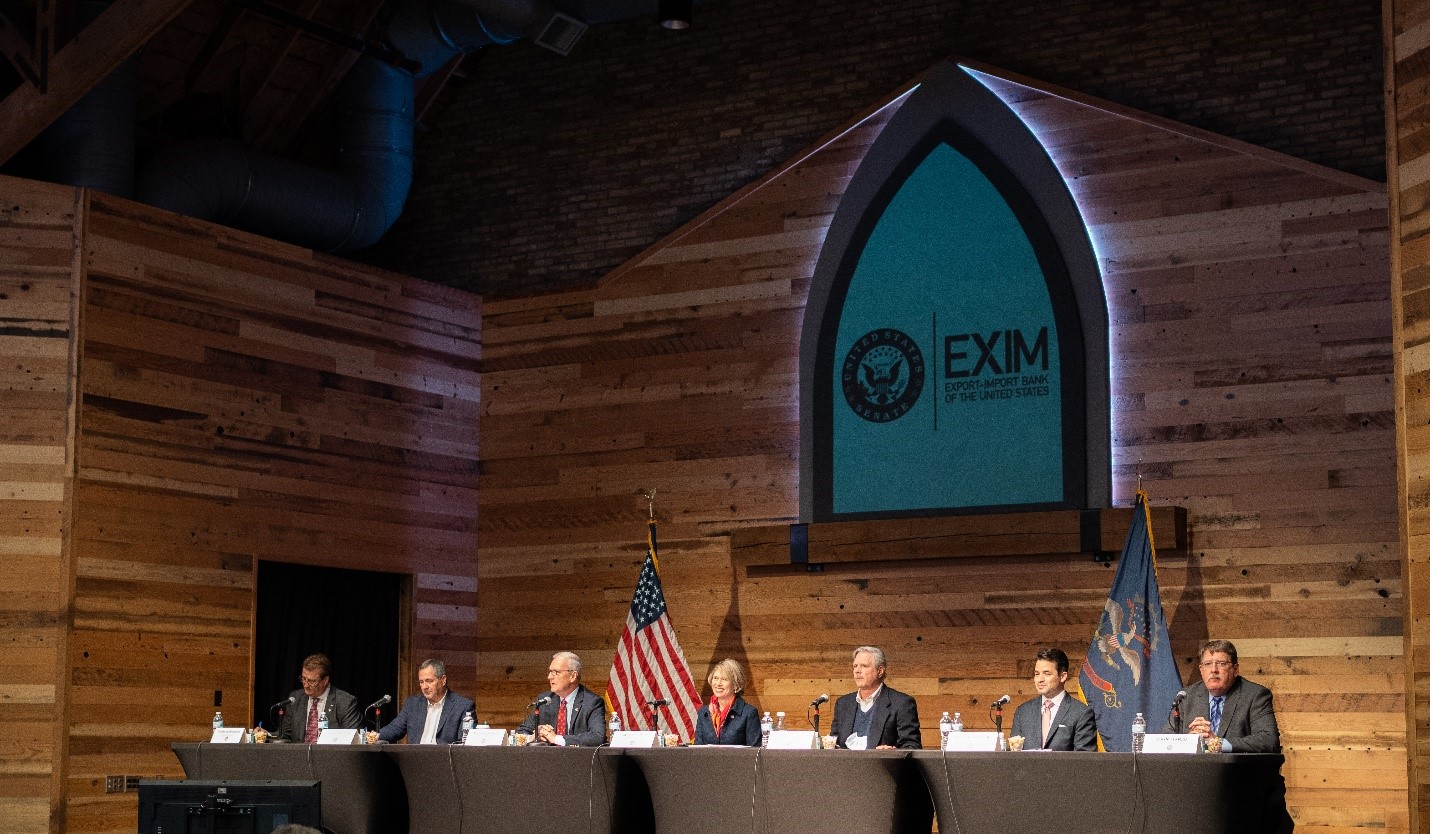 Trade Finance Town Hall from Left to Right: Tom Shorma, Commissioner Doug Goehring, Senator Kevin Cramer, EXIM Chairman Kimberly Reed, Senator John Hoeven, Kirt Gallatin, John Harju
Following the town hall, Chairman Reed participated in a facility tour of WCCO Belting in Wahpteon, North Dakota, an EXIM customer that manufactures specialized belting products used in the agricultural and industrial industries. WCCO Belting, which employs 200 workers, uses EXIM Export Credit Multi-Buyer Insurance to mitigate the possibility of international buyer nonpayment.
"It was great to visit WCCO Belting and see this EXIM success story in action," said Chairman Reed. "EXIM is designed to support companies just like this, that seek to grow and expand their business globally. EXIM is focused on keeping America strong and exporting more 'Made in the USA' products around the world is key to this effort."
"There is only one thing worse than not getting an order... and that is getting the order, shipping it, and not getting paid. Then you're out for the cash and inventory," said WCCO Belting President and CEO Tom Shorma. "The U.S. EXIM Bank ensures a company gets paid for the products it sells, supporting its ability to compete worldwide."

U.S. Senator Kevin Cramer, North Dakota Agriculture Commissioner Doug Goehring, and EXIM Chairman Kimberly Reed tour WCCO Belting with CEO Tom Shorma.
ABOUT EXIM:
EXIM is an independent federal agency that promotes and supports American jobs by providing competitive and necessary export credit to support sales of U.S. goods and services to international buyers. A robust EXIM can level the global playing field for U.S. exporters when they compete against foreign companies that receive support from their governments. EXIM also contributes to U.S. economic growth by helping to create and sustain hundreds of thousands of jobs in exporting businesses and their supply chains across the United States. In recent years, approximately 90 percent of the total number of the agency's authorizations has directly supported small businesses. Since 1992, EXIM has generated more than $9 billion for the U.S. Treasury for repayment of U.S. debt.
For more information about EXIM, please visit www.exim.gov.