Joint Statement from the Export-Import Bank of the United States and the Co-operative Republic of Guyana on the Signing of a $2 Billion Memorandum of Understanding
FOR IMMEDIATE RELEASE
July 28, 2022
Media Contact Name/Phone
Office of Communications 202-730-6639/202-993-0409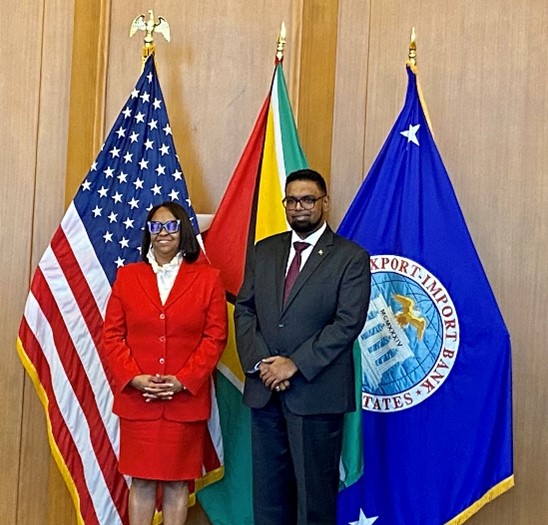 WASHINGTON – The Export-Import Bank of the United States (EXIM) and the government of Guyana yesterday signed a Memorandum of Understanding (MOU) to explore options for utilizing EXIM financing, which include direct loans, loan guarantees, and insurance products, to finance the sale of U.S. exports to Guyana for government projects totaling up to $2 billion.
The MOU includes several potential sectors in which projects may be identified, including but not limited to infrastructure (including roads and bridges); energy (including renewable energy and emission reduction); telecommunications (including wireless technologies); water treatment and sanitation (including technologies and infrastructure); and agriculture.
The MOU provides a framework within which financing can be provided by EXIM to advance developmental projects in Guyana while promoting the export of U.S. made goods and services. In this regard, the MOU provides a valuable mechanism for deepening the trade and economic ties between the two countries while advancing shared interests, especially following the launch of President Biden's Partnership for Global Infrastructure and Investment (PGII). PGII will mobilize $200 billion from the United States over the next five years to promote infrastructure development in low- and middle-income countries.The initiative focuses on advancing sustainable projects with high standards across four key sectors, combatting the climate crisis, safeguarding global health and health security, accelerating technological transformation in the face of a growing digital divide, and advancing gender equity. 
Following the signing, His Excellency, President of the Co-operative Republic of Guyana Mohamed Irfaan Ali and EXIM President and Chair Reta Jo Lewis issued the following statements:
President Ali said, "In this development phase of our country, we want to see greater U.S. participation, not only from the government, but from the private sector. One of the inhibitive factors has always been the ease of access to financing and the barriers to financing. This MOU is the single most important signature not only for Guyana, but for the region. The United States, through the EXIM Bank, is serious about its commitment to the CARICOM region.
"I think we can applaud ourselves and EXIM Bank for this dynamic, futuristic, and bold move in advancing this relationship and this cause. The areas we have identified show the broad and multifaceted nature of the leadership at EXIM Bank."
EXIM President and Chair Lewis said, "This is a great day for the Export-Import Bank of the United States. Signing this MOU with President Ali and Minister of Foreign Affairs Hugh Todd demonstrates the strong relationship between the U.S. and Guyana and shows our commitment to helping Guyana at this transformative time. I would also especially like to thank U.S. Ambassador to Guyana Sarah Lynch for her support in bringing this important partnership together.
"EXIM plays a crucial role in supporting the Biden Administration's whole-of-government approach to building a better America – particularly in ensuring U.S. goods and services are part of commercial diplomatic efforts between countries through initiatives like the Partnership for Global Infrastructure and Investment. We are deeply committed to helping America's exporters compete around the world and finding opportunities with partner countries to advance projects and deals that can create better trade flows and advance shared prosperity." 
Signing this MoU represents an important milestone in U.S.-Guyana relations, laying the foundation for Guyana to access EXIM financing and facilities for the first time ever and providing interventions at a scale that is likely to have lasting development impact.
ABOUT EXIM:
The Export-Import Bank of the United States (EXIM) is the nation's official export credit agency with the mission of supporting American jobs by facilitating U.S. exports. To advance American competitiveness and assist U.S. businesses as they compete for global sales, EXIM offers financing including export credit insurance, working capital guarantees, loan guarantees, and direct loans. As an independent federal agency, EXIM contributes to U.S. economic growth by supporting tens of thousands of jobs in exporting businesses and their supply chains across the United States. Since 1992, EXIM has generated more than $9 billion for the U.S. Treasury for repayment of U.S. debt. Learn more at www.exim.gov.
###